program structure.
❚

 Off-campus PhD Program as a Guided Research (Off-campus)
This is a Guided Research (off-campus) Program where the scholars are assessed through their writings and publications in reputed international journals. They are assessed on the quality & research orientation of their research topic along with the quality of their research thesis. The Degree has been evaluated equivalent to US Regionally Accredited PhD degree by the renowned Credential Evaluation bodies like WES, USA & Canada, SPANTRAN-USA, FCSA-NACES etc.
The total credits are divided among research proposal, literature review, articles writing & publications, dissertation review and dissertation defense.
Following are the generic top-level program requirements. The detailed curriculum shall be provided after enrollment:
Acceptable and relevant Topic of Research
Research Proposal conforming to University Format
Research Publications in Acceptable Journals
Dissertation PPT / Chapter Plan
Dissertation (and its defense)
❚

 Part-time PhD Program with University Visit
This is a Part-time PhD Program with on-campus visit of the university at Phnom Penh, Cambodia.  The students shall visit the University campus at Cambodia twice during the duration of the program. The students shall bear the cost of travel, visa and stay. GradXs will facilitate with Visa invitation letter from IICUT and necessary information regarding the same. The students will receive attendance certificate from the university for both the visits. This program is beneficial for those who are interested in visiting the University as well as in credential evaluation & equivalency by the agencies which require on-campus visit, part-time or full time attendance for such an evaluation. However GradXs strongly advises all the applicants to first ascertain the benefits and advantages before finally applying for the same.
Following are the program requirements:
Theoretical modules on Research methodologies, theoretical & conceptual framework, advance statistical tools and ethical issues in research.
Research Proposal conforming to University Format
Dissertation Review and defense / Viva-Voce
Research Publication & Seminar
❚

Research Supervisor
A Research Supervisor will be assigned who shall guide the student through different stages of his/her research.
In order to make the program more affordable, GradXs provides an option of Student-Nominated Mentor who shall be chosen by the student but requires to be approved by the university. The supervisor should have a Doctorate Degree and sufficient teaching/industry experience in order to be eligible for the same. In this case, the management of financials (honorarium cost, etc.) is done entirely between the supervisor and the student.
In case a student opts for a supervisor assigned by GradXs, GradXs shall assign a University approved GradXs-Assigned Mentor from its network of highly qualified and distinguished Research Mentors for guiding the student in the best possible way. However, this shall incur an additional fee of USD 500 or INR 40000.
research areas.
Following are the top-level subjects / areas of research available:
Agriculture
Business & Entrepreneurship
Computer Science
Economics
Education
Engineering
Environment & Pollution
Finance & Accounts
Health Sciences
Humanities
Information Technology
Law
Management
Marine & Shipping
Mathematics
Occupational Health & Safety
Psychology
Public Health
Science
Social Science
Any other relevant area (subject to review)
Want to do research in an area not listed above?
Reach out to us and we'll be happy to help you out!
eligibility.
❚

Normal Route:

Master's Degree or Equivalent PG Diploma in relevant subject from a recognised University / Institution. Technical Degree holders with quality work experience of minimum 5 years may also apply.

 
❚

Lateral Entry Route:

The University provides an option of Lateral Entry for Fast Track Course Completion for the deserving candidates. It is also a convenient and time-saving mode of enrollment for students who wish to migrate to IICUT for completing their Ph.D. Lateral Entry is not available in On-campus Regular PhD Program. Post-graduate / technical degree holders with minimum 5 / 8 years of teaching/industry experience (subject to assessment of work-experience vis-a-vis proposed research) in the relevant field OR M.Phil. degree holders shall be eligible for enrollment in a 1-year old batch enabling them to complete their Ph.D. program in 2 years.

NOTE:
The Lateral Entry candidates will also have to complete all the program requirements as per the university curriculum.
To ascertain eligibility for Lateral Entry, applicants are required to submit the relevant verifiable documents along with their updated CV.
The decision of the University in regards to eligibility shall be final and binding.
❚

Migration from other Universities:

Students enrolled in a Ph.D. program from some other globally recognized university shall be eligible for enrollment in the same stage of the program (provided they spend at-least 1 year enrolled at IICUT). Eligible students can also avail an exemption of credits, subject to evaluation of progress in their existing program. GradXs offers extra support to such students by designing a customised timeline which helps the student in completing the program on time. However migration facility is not available in the on-campus regular PhD program.

NOTE:
To ascertain eligibility for Migration, applicants are required to submit the relevant verifiable documents.
The decision of the University in regards to eligibility shall be final and binding.
fee details.
---
Application Fee
USD 150
For application processing.
---
Total Program Fee
USD 4900
Payable in installments. Installment plan can be chosen from multiple flexible payment plans while applying.
---
Assessment Fee
USD 1100
Payable in installments together with the Program Fee installments.
---
---
Note: Payments shall be accepted only via Bank Transfer. The necessary bank charges should be borne by the student.
Program Fees for Indian students (off-campus program) : INR 400000. + GST (payable by instalments , semester wise)
Fee details for the On-Campus Regular (Part-time) PhD Program 
For International students: US$7650. (payable by 3 installments, year wise)
For Indian students: INR 532000. + GST (payable by 3 installments, year wise)
For Lateral Entry Students:
In case of Lateral Entry, the installment amount will be adjusted to match the reduced program duration. Note that no exemption of fees shall be granted. Lateral Entry is not available in on-campus regular program (part-time).
mentors.
GradXs boasts its network of highly qualified and distinguished mentors from around the world. These mentors are assigned to the research students as their supervisors (for students opting for a GradXs-Assigned Mentor) who guide the students throughout their research. The student and supervisor then work together to bring out the maximal outcome of the research.
Click here to view full list of mentors.
Want to join our Mentor Network? Get Started
research support.
GradXs conducts interactive online sessions on a regular basis on key research topics so that the research students can get benefited from the immense expertise of our Mentors. The students also get a chance to clarify their doubts with the mentors.
GradXs also enables the students with a discussion forum on its portal, where students can engage with the mentors as well as with other students for academic discussions.
Following are glimpses of some of the sessions conducted by GradXs: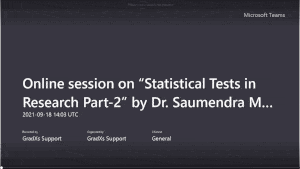 Statistical Tests in Research
Dr. Saumendra Mohanty (RM0019)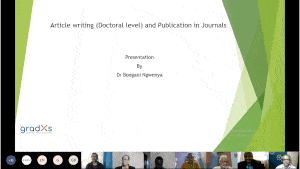 Article Writing (Doctoral Level) and Publication in Journals
Dr. Bongani Ngwenya (RM0005)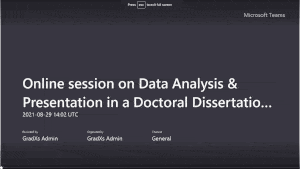 Data Analysis and Presentation in a Doctoral Dissertation (Theory and Practice)
Dr. Bongani Ngwenya (RM0005)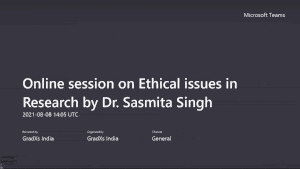 Ethical Issues in Research
Dr. Sasmita Singh (RM0029)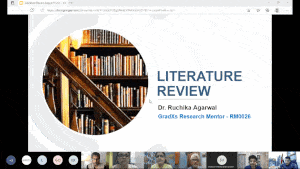 Literature Review in Research
Dr. Ruchika Agarwal (RM0026)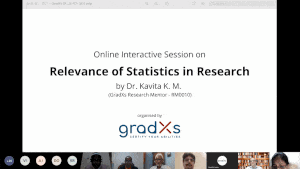 Relevance of Statistics in Research
Dr. Rajashri (RM0010)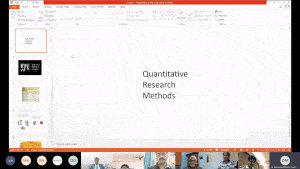 Quantitative Research Methods
Dr. Saumendra Mohanty (RM0019)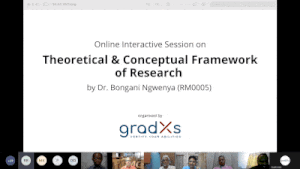 Theoretical and Conceptual Framework of Research
Dr. Bongani Ngwenya (RM0005)