overview.
❚

University

One of Europe's finest, the Swiss School of Management (SSM) is an accredited private institute of higher education founded in the last century in Switzerland. It is acknowledged by Ministry of Education, Italy.

Accreditations, Recognitions and Memberships:
Accreditation by

 IACBE, USA 

Recognition by the Council for Higher Education Accreditation - 

 CHEA, USA 

Certification with 

EduQua 

 (a prestigious Swiss quality assurance label)
UNESCO approved Institution, through the International Association of Universities - 

 

IAU, UNESCO, Paris 
---
❚

 Highlights
Learn from distinguished faculty via online classes.
Handholding and dedicated support.
Access to digital libraries and live (digital) events.
Access to SSM's International Expert Group.
---
❚

Eligibility

Candidates need to have completed a significant research project, dissertation or thesis, at university level. Candidates must own a comparable Master's Degree; i.e., it has to be awarded by an officially acknowledged Higher Education Institution.

Graduates without a Master's Degree are equally admitted, but they must have acquired another similar Degree, which can be directly compared to a Postgraduate Degree, i.e. equivalent to level 7 of studies. This regulation acknowledges differences, which may internationally exist on national levels.

Applicants for the Doctorate program DBA, are exempted from an English exam provided they completed their schooling years and/or bachelor's program at a recognized school where the medium of teaching is English.
---
❚

Duration

The program duration is 2 years, with 2 semesters per year, i.e. a total of 4 semesters.
---
❚

Program Structure

The DBA Program structure is aligned with international standards of Postgraduate Education and, accordingly, fulfils the criteria of the process of Harmonisation of Higher Education in Europe (Bologna Process).

The doctoral program will require the accomplishment of five taught Research Methods modules as first stage. Only the successful fulfillment of all five modules entitles students to progress to the second stage, the thesis level.

The successful students will acquire 120 ECTS credits throughout the course:
30 ECTS credits through the fulfillment of 5 Research Methods modules (6 ECTS credits per module)
90 ECTS credits through the Doctoral's thesis
The modules are delivered interactively and are based on actual knowledge and research in this pathway. The "Research Methods" modules are taught via lectures and/or seminars and require students attendance. A long-distance learning version will be introduced as alternative form of study as well.
The data collection, the analysis of data and the Doctoral Thesis demonstrating independent empirical research are an evidence of the candidate's ability and capability to undertake applied defendable and empirical research on the highest level of academic studies.
This program of studies is considered relevant, rich and academically valid thanks to the adoption of the highest standards of Higher Education. Additionally, superior professional standards have been embedded. Learning objectives and module contents are further closely related to the Six Principles of the PRME Framework of the United Nations.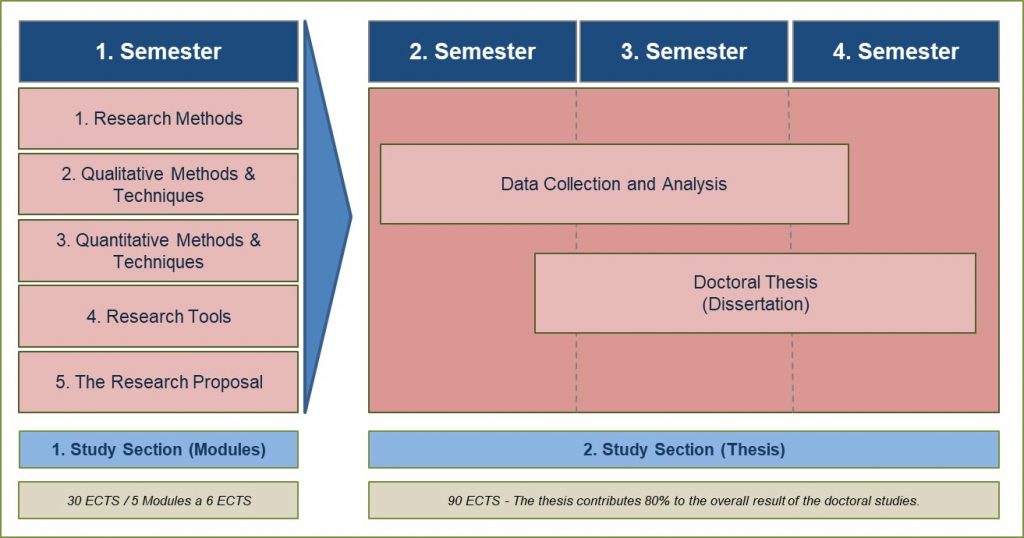 fee details.
Introductory Offer: 70% fee-waiver available!
The fee-waiver is a part of an Introductory Offer from GradXs, based on its recent partnership with SSM, which is one of the finest universities of Europe. The offer will be applicable to the first 100 students enrolled in this program via GradXs.
---
Application Fee
For application processing.
---
Total Program Fee
Payable in installments. Installment plan can be chosen from multiple flexible payment plans while applying.
---
---
Note: Payments shall be accepted only via Bank Transfer. The necessary bank charges should be borne by the student.